Vavasour Pinot Gris 2021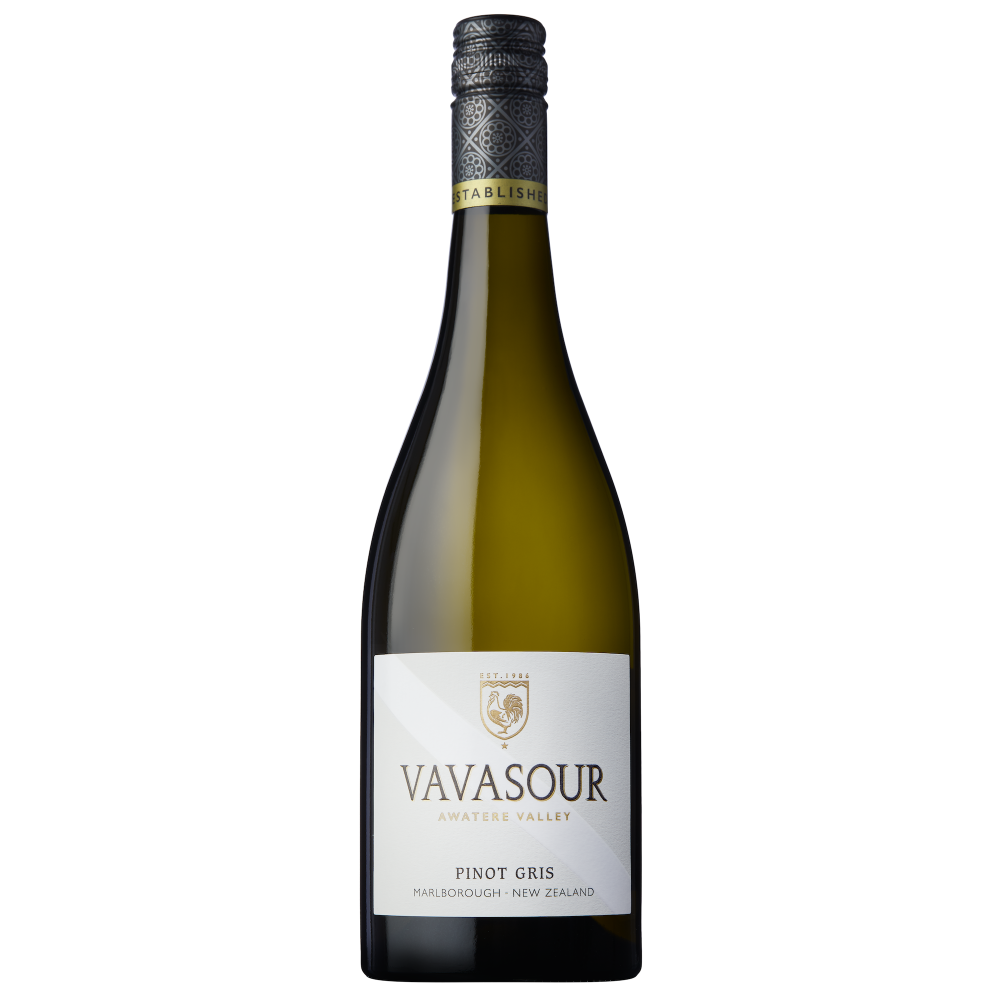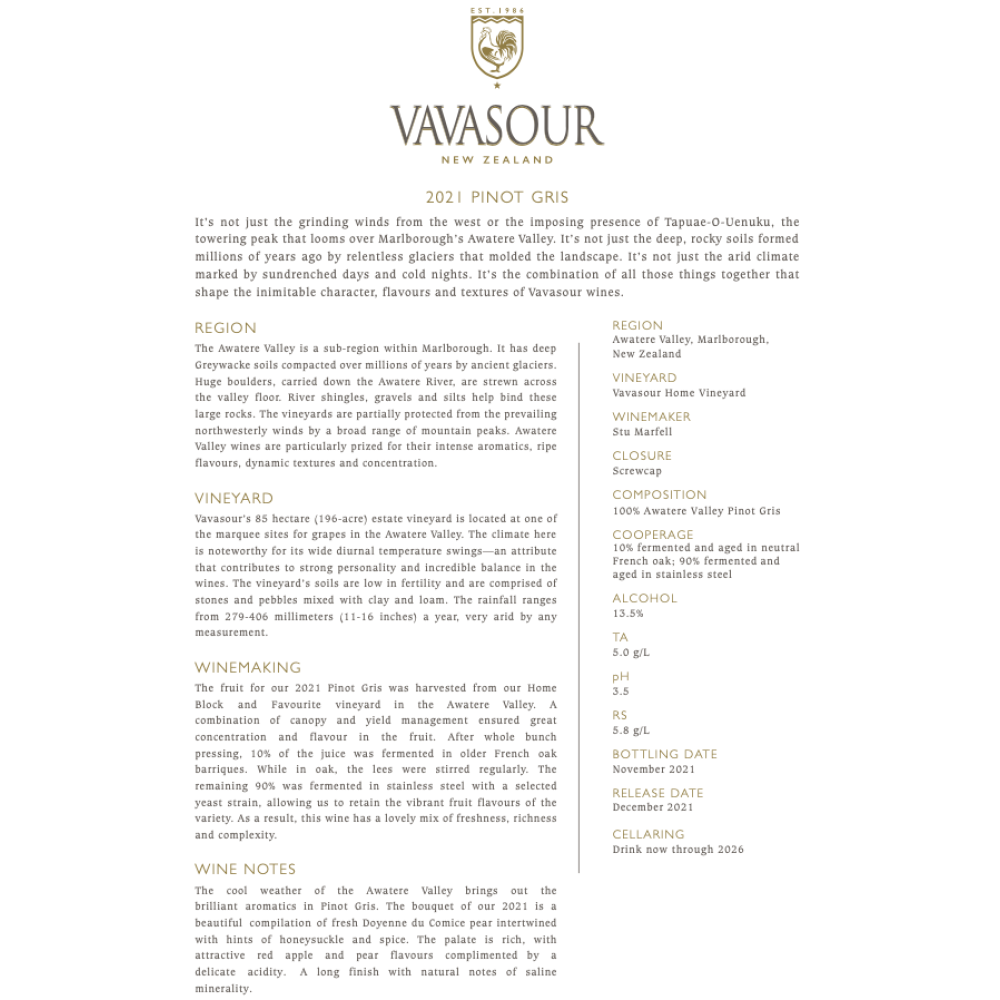 New Hot Out Of Stock


Vavasour Pinot Gris 2021
Stock:

Out Of Stock

Region:

Awatere Valley, Marlborough, New Zealand

Foley Family Wines - Vavasour
The bouquet of our 2021 is a beautiful compilation of fresh Doyenne du Comice pear intertwined with hints of honeysuckle and spice. The palate is rich, with attractive red apple and pear flavours complimented by a delicate acidity. A long finish with natural notes of saline minerality. The cool weather of the Awatere Valley brings out the brilliant aromatics in Pinot Gris.
Drink now through 2026.
Winemaking
The Awatere Valley is a sub-region within Marlborough. It has deep Greywacke soils compacted over millions of years by ancient glaciers. Huge boulders, carried down the Awatere River, are strewn across the valley floor. River shingles, gravels and silts help bind these large rocks. The vineyards are partially protected from the prevailing northwesterly winds by a broad range of mountain peaks. Awatere Valley wines are particularly prized for their intense aromatics, ripe flavours, dynamic textures and concentration.
VINEYARD
Vavasour's 85 hectare (196-acre) estate vineyard is located at one of the marquee sites for grapes in the Awatere Valley. The climate here is noteworthy for its wide diurnal temperature swings—an attribute that contributes to strong personality and incredible balance in the wines. The vineyard's soils are low in fertility and are comprised of stones and pebbles mixed with clay and loam. The rainfall ranges from 279-406 millimeters (11-16 inches) a year, very arid by any measurement.
WINEMAKING
The fruit for our 2021 Pinot Gris was harvested from our Home Block and Favourite vineyard in the Awatere Valley. A combination of canopy and yield management ensured great concentration and flavour in the fruit. After whole bunch pressing, 10% of the juice was fermented in older French oak barriques. While in oak, the lees were stirred regularly. The remaining 90% was fermented in stainless steel with a selected yeast strain, allowing us to retain the vibrant fruit flavours of the variety. As a result, this wine has a lovely mix of freshness, richness and complexity.
In The Spotlight
Gold Medal - Air New Zealand Wine Awards; Gold Medal - New Zeland International Wine Show; 4.5 Starts - Michael Cooper, The Listener; Silver Medal - Marlborough Wine Show

Varietal
Varietal
100% Pinot Gris
Vintage
Vintage Year
2021
Bottling Date
November 2021
Winemaker
Winemaker
Stu Marfell
Volume
Volume
750ml
Technical Details
Alcohol %
13.5%
RS (Residual Sugar)
5.8g/L
TA (Total acidity)
5.0g/L
pH value
3.5